INTRODUCTION:
Single Feed Enzymes
Nutrizyme PHY (phytase) [EC 3.1.3.26] is made from Aspergillus niger through advanced fermentation and extraction technology. It can break down the undigestible phytic acid (phytate) found in grains and oil seeds and thus release digestible phosphorus, calcium and other nutrients. As an
Animal Feed Enzymes
additive often used in poultry and swine,it can enhance the nutritive value of plant material by liberation of inorganic phosphate from phytic acid (myo-inositol hexakisphosphate) , thereby, reduce environmental phosphorus pollution.
DEFINITION OF UNIT:
1 unit of phytase equals to the amount of enzyme, which liberates 1 μmol of inorganic phosphorus in 1 min, from 5.0mmol/L sodium phytase at 37℃ and pH5.0
ENZYME ACTIVITY:
Phytase ≥5,000-100,000u/g;
Thermostable phytase ≥5,000-50,000u/g;
Products can be customized according to customer`s demand.
APPEARANCE:
White or Yellowish powder
DOSAGE:
Used for Complete feed , Dosage: (g/MT of complete feed)
Swine:
Enzyme activity(g):
≥5000 u/g(100) ; ≥10,000 u/g(55) ; ≥50,000 u/g(11) ; ≥100,000 u/g(5.5)
Broiler:
Enzyme activity(g):
≥5000 u/g(100) ; ≥10,000 u/g(55) ; ≥50,000 u/g(11) ; ≥100,000 u/g(5.5)
Layer:
Enzyme activity(g):
≥5000 u/g(60) ; ≥10,000 u/g(35) ; ≥50,000 u/g(7) ; ≥100,000 u/g(3.5)
Meat duck:
Enzyme activity(g):
≥5000 u/g(100) ; ≥10,000 u/g(55) ; ≥50,000 u/g(11) ; ≥100,000 u/g(5.5)
Dilute the concentrated enzyme before use.
ENZYME PROPERTIES: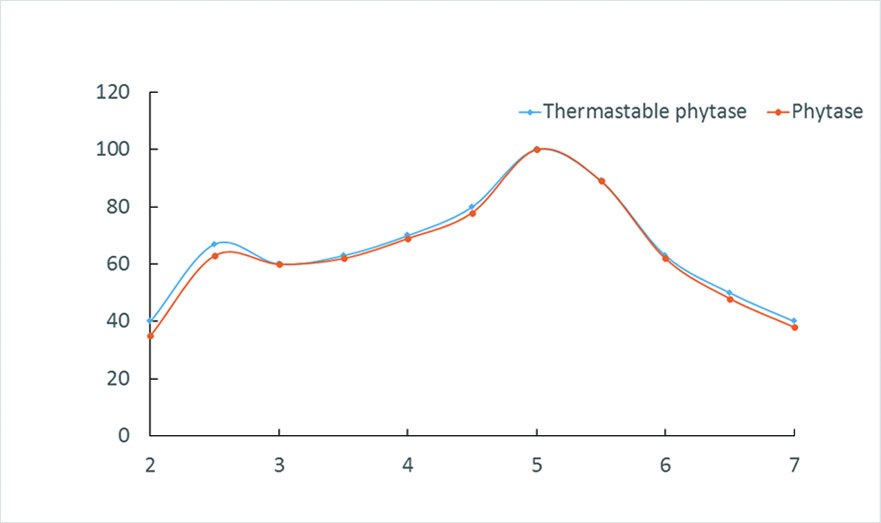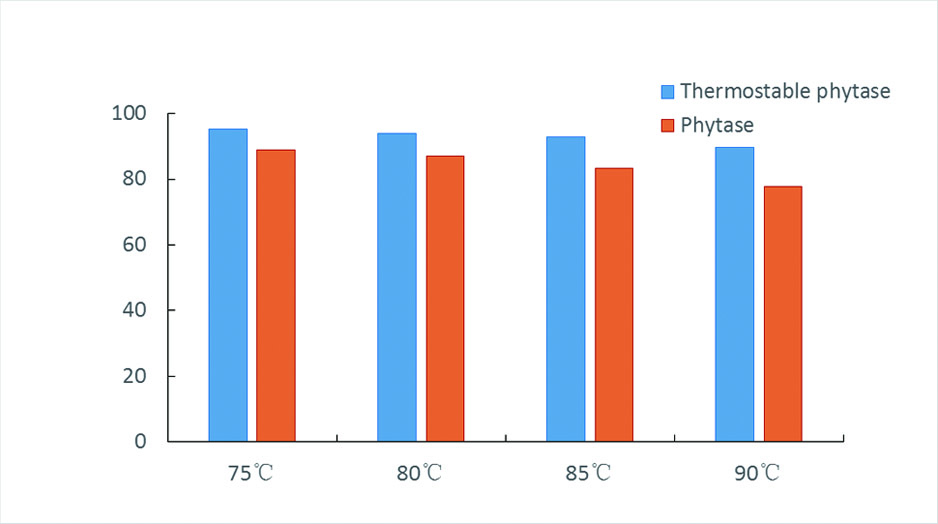 FUNCTIONS & BENEFITS:
1. Effectively hydrolyze phytic acid in the plant materials, increase the phosphorus utilization rate of the feed raw material;
2. Reduce the dosage of inorganic phosphorus, save cost and feed formulation space;
3. Break phytanate frame, release nutrients, like: starch, protein, mineral elements, increase the utilization rate;
4. Decompose the phytate phosphorus in the plant materials, balance the metabolic role of animals;
5. Improve the absorption of nitrogen and phosphorus and reduce environmental pollution.
ADVANTAGES:
1. Produced through advanced liquid fermentation and extraction technology;
2. Good resistance to endogenic protease and gastric acid;
3. Thermo-resistant, wide pH range, catalyzing effectively in animal intestines;
4. Even granular, appropriate grain size, blend equally;
5. Highly concentrated and cost saving.
PACKAGE&STORAGE:
1. Packaging specification: 25KG/Bag.
2.The shelf life is 12 months under 20℃.
3. Damp and insolation should be avoided. Store it in a cool, dry and ventilated place.
ABOUT US
Company introduction: Sunson Industry Group Co., Ltd. was founded in 1996. After 21 years full efforts, Sunson has grown to be a large enzyme enterprise, specializing in exploring, researching, manufacturing and marketing of industrial enzymes. We have 1 strain R&D center, 1 application research center and 2 modern manufacturing bases. We supply you with Food Enzymes, Animal Feed Enzymes, Bakery Enzymes and Textile Enzymes.
Looking for ideal Enhance the Nutritive Value of Plant Manufacturer & supplier ? We have a wide selection at great prices to help you get creative. All the Reduce Environmental Phosphorus Pollution are quality guaranteed. We are China Origin Factory of Wide PH Range. If you have any question, please feel free to contact us.
Product Categories : Animal Feed Enzymes > Single Feed Enzymes